A bit of time spent in the workshop late this evening, and the ATX80 ARDF Beacon is a little closer to complete.
The side of the case has been removed to allow the 10x AA battery holder to slide in and out as needed, and the PCB is now supported securely on four nylon stand off posts. These had to be cut down, and the cut ends re-drilled to allow insertion of a few self tapping screws. A layer of tape on the case, and a sheet of plastic film between the stand-offs and the PCB is still needed, just for safety to ensure the batteries cannot short to anything.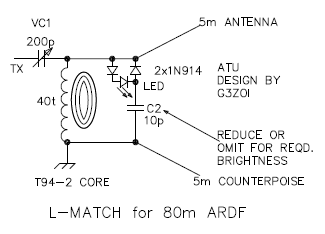 The next step is to replace the ATU circuit with this one. This should allow 5m or shorter antenna wires to work with the beacon. Once thats working, all thats left is to add a label on the inside of the lid with the operating instructions on it, and one on the outside showing what the unit is!